HOME

BIOGRAPHIES & OBITUARIES

CEMETERIES

CENSUS

LOCAL HISTORY

IMMIGRATION & NATURALIZATION

LOOKUPS & QUERIES

MAPS & LAND RECORDS

MILITARY

NATIVE AMERICAN

NEWSPAPERS

PHOTOS & MEMORABILIA

RESEARCH RESOURCES

SURNAMES

USGENWEB PROJECTS

VITAL RECORDS
(Birth, Marriage, Death)

VOLUNTEERS WANTED

WHAT'S NEW


THE BROADBENT FAMILY
Bias Broadbent was from Owston, Lincolnshire, England. He came to the states wanting to fight in the civil war! He served in the navy and was on a ram ship for the north. After the war he settled in Madison Lake, Blue Earth County, MN. There he met Elizabeth Clear, they had three sons:
John Hurst Broadbent, married Lydia Mautner

William Broadbent, married Maude Cole

Jesse Rush Broadbent, married Eliza Bromling
William and Jesse moved to Hubbard County first, then John with his wife and family, and their mother Elizabeth (Clear) Broadbent. They all died in Hubbard County, in Arago and Park Rapids.
John Broadbent Family
Click on images for a larger view of them



Above: John Broadbent wearing a black hat




Above: Effie, Walter, Allen & Lydia


Above:

Lydia (Mautner) Broadbent



Clara, Allen, Walter, Effie
Pearl, Lydia, John, Edna

Alan's wife Margaret and her elder sister
John was born in 1869, he died in 1938 in Park Rapids. His wife Lydia (Mautner) Broadbent was born in 1872. She lived in Park Rapids for quite a while and in later years stayed with daughter Edna in Prior Lake, Lydia died in 1956 and is buried in Park Rapids.
John and Lydia raised several children in the Park Rapids area:
1. Walter who later settled in Mason City.

2. Effie who settled in Jackson County, MN.

3. Clara who settled in Oklahoma and died soon after.

4. Alan who settled in Mason City. He married Margaret Straw (daughter of Maggie Straw and her second husband. Maggie is buried in Park Rapids. In 1947 Maggie's eldest daughter (from 1st husband) was Elva Millard who married George Weeks, they raised their children in Park rapids. (which are a lot of the Weeks clan) Elva and George are buried in Park Rapids.
5. My grandma Pearl married Earl Ricker. Pearl Graduated from Park Rapids school, I have her diploma. She died in Forest Lake, MN at a nursing home, her daughter Doris Kirsch lived in Circle Pines. See the Ricker Family page for more information on Earl.

6. Edna settled in Prior Lake.
William Broadbent Family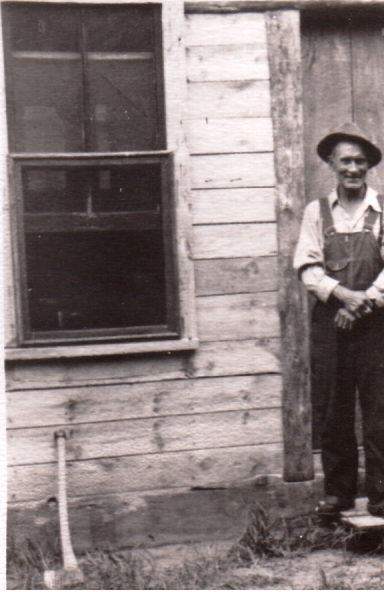 Above: William Broadbent
William was born in 1877, died in 1949 in Arago. He married Maude Cole (1878-1963), they raised their children and grand-children in Park Rapids.
Jesse Broadbent Family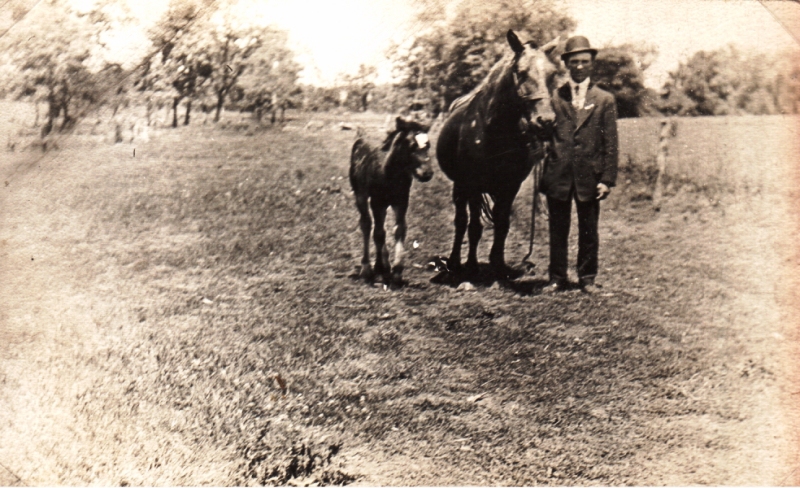 Above: Jesse Broadbent with horses
Jesse was born in 1881, he died in 1951 in Arago, where he is buried. He married Eliza Bromling who he later divorced. Their son stayed with him in Park Rapids, the son later moved out west.
Submitted by Barbara Day