---
HOME

BIOGRAPHIES & OBITUARIES

CEMETERIES

CENSUS

LOCAL HISTORY

IMMIGRATION & NATURALIZATION

LOOKUPS & QUERIES

MAPS & LAND RECORDS

MILITARY

NATIVE AMERICAN

NEWSPAPERS

PHOTOS & MEMORABILIA

RESEARCH RESOURCES

SURNAMES

USGENWEB PROJECTS

VITAL RECORDS
(Birth, Marriage, Death)

VOLUNTEERS WANTED

WHAT'S NEW


---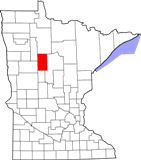 Founded on February 26, 1883, Hubbard County is located in northwestern Minnesota and is named after Minnesota's 9th governor, Lucius Frederick Hubbard. A portion of the Leech Lake Indian Reservation rests within the county, the largest city of Park Rapids is the county seat.

Hubbard is surrounded by Beltrami County (north), Cass County (east), Wadena County (south), Becker County (southwest), and Clearwater County (northwest).


The USGenWeb was established in June 1996 by a group of genealogists who shared a desire to create online centers for genealogical research, the MNGenWeb is proud to be part of the project.



Sometimes research brings you to places outside of the United States, the WorldGenWeb project may help you find that elusive ancestor.




If you have information on Hubbard county, documents, genealogies or photos of your ancestors who once lived in the county, consider sharing it with other researchers... Contact the Coordinator for more information.